Los Angeles-based artist Diana Shui-Iu Wong was born and raised in 1940s Hong Kong. Wong's interest in art and talent for drawing was apparent at the age of five. Throughout her childhood, she studied calligraphy, enriching her passion for art. Wong studied fine art close to home until her deepening interest in modern Western art, especially impressionism, led her to the Academy of Fine Arts in Rome, Italy, in 1957, and later the Royal School of Art in London. Wong returned to Hong Kong and traveled to New York and Los Angeles, where she set up permanent residence in 1970. Later in 1985, Wong opened a gallery of her own in Santa Monica. Since settling in Los Angeles, Wong has established herself as an international local artist who balances traditional Chinese and contemporary Western aesthetics.
While Wong's classical training in both Chinese and Western painting form the basis for her techniques, her study of the I-Ching offered her a decisive break from traditional modes as well as new creative directions. In 1962, Wong began to experiment beyond the conventions of her formal art training to explore the liberating complexity of abstraction. Discovering that she could express pride for her heritage and culture through her work, Wong has also found self- empowerment through her art making. Wong's most recent work ventures boldly into abstraction while grounded in nature and the elements. Her striking images, like color-flooded snapshots of the cosmos, explore universal questions about being and balance.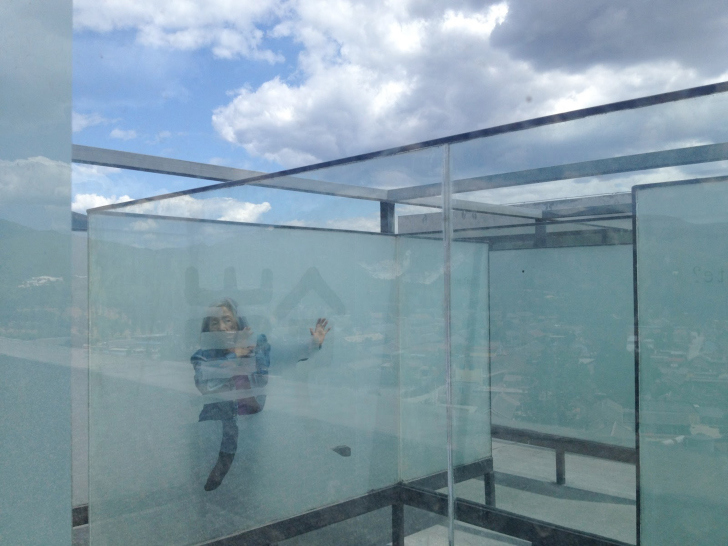 In 2011 Diana was invited to create a permanent installation of the "Labyrinth of the Nine Palaces" from the I-Ching with glass and steel on the rooftop of the Shang-Yuen Art Museum and Artist Community in Beijing, China. Diana Wong's work has been exhibited in Museums, galleries and cultural centers in various cities in the U.S. and internationally in China, Japan, France, Italy, Mexico and Taiwan.
In 2005 Diana Wong published her autobiography: Merging, The labyrinth And Beyond, Art and Life of Diana Shui-lu Wong. Merging features a collection of work that spans four decades, from Wong's early impressionistic portraits and landscapes to recent abstract compositions inspired by the Chinese philosophy of the I Ching or The Book of Changes.
CV
Selected Solo Exhibits
2015 LA Artcore Gallery, Los Angeles
2012 "Glass Labyrinth", the Shang Yuan Art Museum, Beijing, China
2012 LA Artcore Gallery, Los Angeles
2010 Building Bridges Art Gallery, Los Angeles
2008 Gallery Ora-Ora, Beijing, China
2008 Total Art gallery, Shenzhen, China
2006 Chinese American Museum of Art, Los Angeles
2005 "Retrospective" Museum of Art, University of Hong Kong, Hong Kong
2000 "Entrance/Emergence" 456 Gallery, New York, USA
1998 "The Journey Within" Galleria Mazzocchi, Parma, Italy
1997 "Labyrinth of Migration" Robert V. Fullerton Art Museum, Fullerton
1997 "Blue and Gold: A Tribute to Hong Kong" Trigram Gallery, Hong Kong
1995 "Wonders of Heaven" Galleria Prospectiva, Milan, Italy
1994 "Wonders of Heaven" National Gallery, Beijing, China
1992 "Cosmos" Seibu Art Gallery, Hong Kong
1992 "Cosmos" Filipin Gallery, Milan, Italy
1989 "New Works: The Pacific Rim Exhibit" Gallery Q + 1, Tokyo
1988 "Ten Years Work in Retrospective" Taipei Fine Arts Museum, Taipei, Taiwan
1988 "Ten Years Work in Retrospective" Alisan Fine Arts Gallery, Hong Kong
1987 "The Peng Series" Midge Carr Art Center Gallery, New York Institute of Technology, New York
1983 "California Trails" Pacific Asia Museum, Pasadena
Selected Installations and Performances
2012 "All Seasons Become One" Art Performance, LELA International Gallery, Los Angeles
2012 "Labyrinth of Nine Palaces" Permanent Installation of Steel and Glass, Shang Yuan Art Museum, Beijing, China
2007 "The Bliss Table", Asto Gallery, Los Angeles, California
1999 "Creation and Dissolution" Art Performance, L.A. Artcore Brewery, Los Angeles
1996 "Process and Ritual" Video Installation, Downey Museum, Downey
1995 "The Labyrinth" LA ArtCore, Art Bank, Los Angeles, California National State County Partnership Grant
1994 "The Labyrinth" Dance/Poetry/Music, Hammer Museum, Los Angeles
Selected Group Exhibits
2014 " Art and Democracy" #4 "Building Bridges", Bergamot Station, Santa Monica CA
2012 "From a Whisper to a Roar", National WCA Exhibit, Ave 50 Studio, Highland Park, CA
2008 "Building Bridges" CEART Cultural Art Center, Ensenada Mexico
2008 L.A. Art Core, Hybrid Prints, Los Angeles CA
2008 Emphasis Santa Monica, Pete & Susan Barrett Art Gallery, Santa Monica
2007 Sung Zhuang Festival of Art, Beijing, China
2007 Five Continent Artist's Conferences and Art Exhibit, Paris, France
2004 Art and Democracy #3 Angels Gate Cultural Center, San Pedro, California
2004 "Bridging Time and Space. California Layerists Create" SomArts Bay Gallery, San Francisco, California
2003 "Abstract Elegant I" Don O'Melveny Gallery, Los Angeles, California
2000 "The Immigrants' Eye" Angels' Gate Cultural Center, San Pedro, California
2000 "On and Off Paper" Angels' Gate Cultural Center, San Pedro, California
2000 "Shifting Perceptions/Contemporary L.A. Visions" Pacific Asia Museum, Pasadena, California
1998 International Art Festival, Tachikawa, Japan
1998 Pyong Taek International Art Festival, Pyong Taek, Korea
1997 "Four Abstract Artists" Gallery of the Rim, San Francisco, California
1997 "Beyond Abstraction" Alisan Fine Arts, Hong Kong
1997 "Beyond Abstraction" Shanghai Museum of Fine Art, Shanghai, China
Selected Review and Bibliographies
2005 "Role Model" Channel 18, LA
1997 "Chinese Abstract Art and Beyond at the Hong Kong Arts Center," Asian Art News, May/June 1997, p. 84, John Millichap
"Art Talk" CNBC News, Hong Kong
1996 "Dancing With the Tao" Asian Art News, Vol. 6, No.4 July/August pp. 66-67, Collette Chattopadhyay
1995 "Introduction, The Wonders of Heaven", Beijing, China, Henry Hopkins
"Lao Tzu, Dante, Jung & I Ching" Archivio, Milan, Italy
1994 "Artist Finds Expression in Colours" China Daily, Beijing, China, August 3, 1994, Yi Shu
1992 "Diana Wong in Milan" Giornale di Sicilia, Feb. 1992, Picciche 1991 Visions Magazine, Mary Carrol Nelson
1989 Los Angeles Times, Susan Geer
Awards
2016 Best Narrative Short Film, All Seasons Become One, Fine Art film Festival Venice, CA
2016 Best Fine Art Film, All Seasons Become One, Open Art Short Film Festival, Dusseldorf, Germany
2015 Best Short Film, All Seasons Become One, Albuquerque Film and Music Festival, Albuquerque, New Mexico
2015 Out Of The Ordinary Honorable Mention, All Seasons Become One, Taos Shortz Film Festival, Taos, New Mexico
1983 Jury award,, La mirada Art Festival, California
1981 Second award 66th National Orange festival. San Bernardino California
1960 1st Award Black and white composition, International young artists competition, Grubbio, Italy